Memorial to a Cracked Winnie the Pooh Glass from the 1960s
One of my favourite glasses at the cottage now has a crack that's too big to be ignored; it needs to be thrown out. It's a memorable glass (and pretty rare - only found one other mention of the series) so I'd like to write a few words about it before it disappears forever.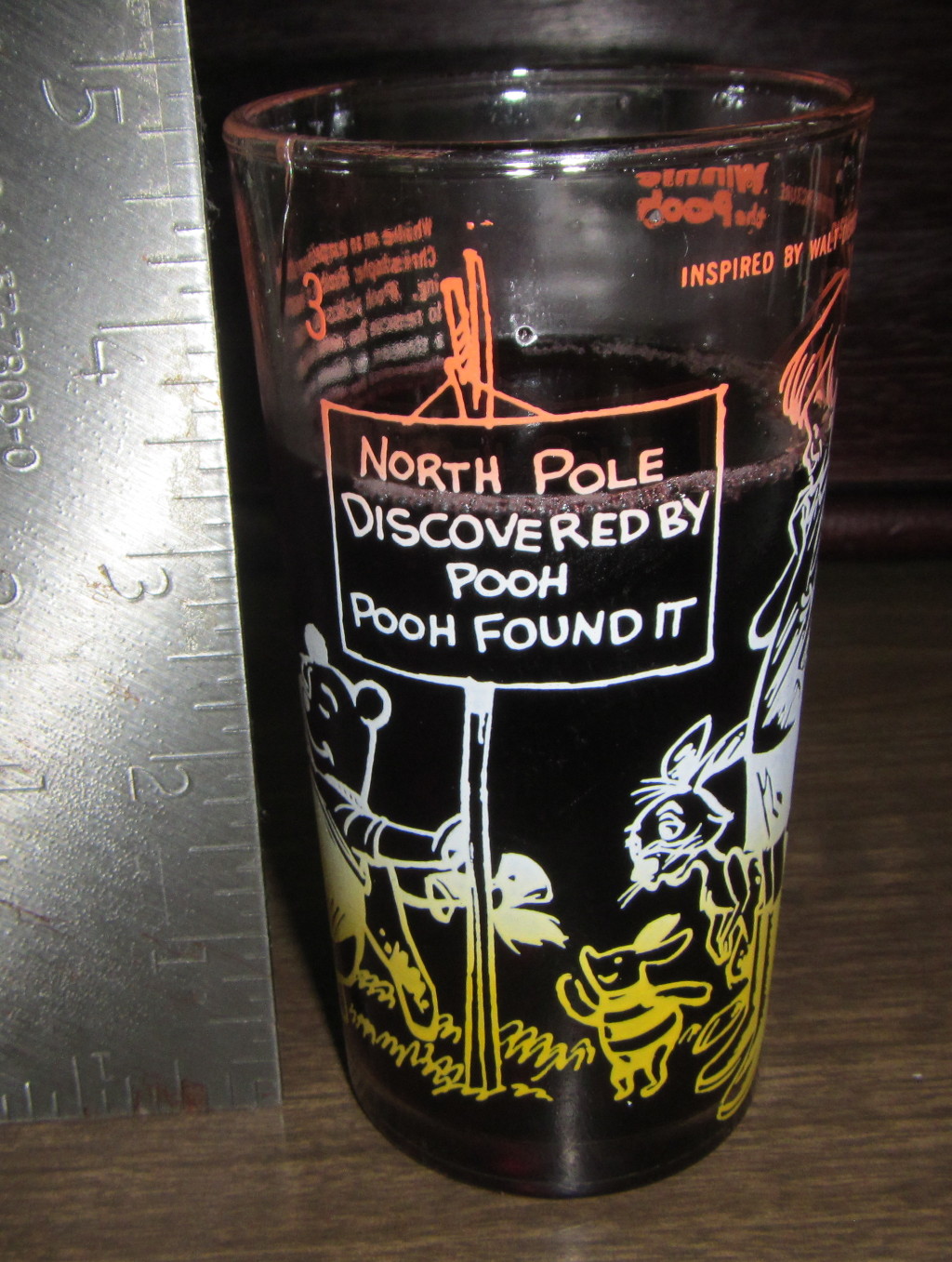 I remember it from long ago (a half century), in the 1960s. It's labelled "© Copyright 1965 Walt Disney Productions", which fits in with me seeing it probably in 1967 when we were at the family cottage for Expo 67 and I was a little kid. I also remember it from the many years after that when I'd run across it in the kitchen cupboard each summer. Probably it had been bought in 1966, when Walt Disney Productions' Winnie the Pooh and the Honey Tree was released.
Doing a bit of research, I found an Etsy Page with someone selling tumbler #4 from the series of six. She has the original Billy Bee container cap, which tells us the glass was a promotional item for selling honey in. The cap's fine print says "BILLY BEE HONEY PRODUCTS LIMITED, TORONTO, ONT." which fits our tumbler being purchased nearby in Montreal, Quebec, Canada. One other thing to notice is that her #4 Kanga and Roo tumbler is printed in all white, while our #3 North Pole one is red on top, shading to white in the middle and yellow on the bottom. I deduce that Disney just gave them a pattern for silk screening one colour, and Billy Bee made a bit fancier version by blending colours while silk screening it. But that #4 glass has the final full movie title on it, so maybe it came later and the change was from colourful to white ink. Also our #3 glass has a much more wordier story on it. I wonder what the other 4 tumblers looked like, and if there are other variations.
Besides the great printing (tactiley thick and didn't wear out after half a century of use) and amusing word joke (to children), it was a great glass at the time. Now I'm larger and like larger glasses - big enough for a can of pop and ice cubes, so I don't use good old #3 as much. So it's with a bit of sadness that I'm disposing of this glass (yes, I wrapped it in layers of bags so it doesn't hurt anyone handling the garbage).
For completeness, here's the rest of the wording on the glass. Note that it's called the "Winnie the Pooh" motion picture rather than "Winnie the Pooh and the Honey Tree" because - like the Wikipedia article says - Disney changed it from a feature film to a short with a different title at the last minute, probably after the glass was printed. Here are the printed words:
While on an expedition that Christopher Robin is leading, Pooh picks up a stick to rescue Roo who fell into a stream. He finds he has discovered the North Pole.
A SERIES OF SIX TUMBLERS
North Pole
Discovered by
Pooh
Pooh Found It
INSPIRED BY WALT DISNEY'S MOTION PICTURE
Winnie the Pooh
P.S. Next time use warm grape juice to avoid condensation while photographing!
Copyright © 2018 by Alexander G. M. Smith.