From a newspaper article in Le Lingot, Arvida, Jeudi 17 Juillet 1952, page 2. With corrections by Betty Locke in 2005, typed in by Alexander G. M. Smith.
Arvida Dramatics - Past and Present
Past
It is with a good deal of pride and not a little nostalgia that I set down the history of the Arvida Amateur Dramatic Society.
Let it not be supposed that dramatics did not flourish in Arvida prior to the existence of the A.A.D.S. On the contrary, you could count on at least one church organization or social club about town to sprout a dramatic offering of some sort every Spring.
My clearest memories are of those performed in the basement of the old Arvida First United Church. Do you recall those old fashioned melodrammas that featured such dastardly villains as Jack Miller and Brian Vale, such manly heros as Al Garcia and Al Sangwine, and such a sweet heroine as Jean Saunders? One of these was performed at one of the military units stationed in Arvida. The stage was improvised of mess tables, and Belle-Mary Tait nearly broke a leg when she made a particularly enthusiastic entrance. Do you remember the tense one-act murder msytery in which Gladys Palaisy and Fred Barker had starring roles? They unfortunately left out two pages of dialogue during a Saturday Matinée for school children, thus making an already obscure mystery completely unfathomable! You have surely not forgotten an original one-act play "Two Tricks in Diamonds" directed by Mrs. R. C. March with a cast consisting of such well-known figures as Dr. & Mrs. W. James, Kitch March and Hal Robinson. It was in the church basement, too, that Eugene Jousse, now a prominent figure in amateur dramatics in Montreal, made his first stage appearance in Arvida with Betty Smith in that ever-popular one-act play, "A Marriage Has Been Arranged".
I daresay no small town exists which does not harbour some dramatic enthusiasts eager to tread the boards and Arvida during the early forties was no exception.
The Arvida Amateur Dramatic Society 1943-1946
Arvida's first dramatic group, The Arvida Amateur Dramatic Society, came into existence in February 1943 with Mr. G. W. LaMountain as Honorary-President, Mr. P. E. Radley as Honorary-Vice-President, Mavis Jousse as President, Jack Miller as Vice-President and Bruce Sproule as Business Manager.
Enthusiasm ran high. Copious correspondence was entered into with the City, the Company, and anybody and everybody interested in dramatics. In no time at all the membership soared, a constitution was drafted, flats were built, plays and make-up were ordered and Noel Coward's "Hay Fever" went into production.
This first play, directed by Eugene Jousse, was an unqualified success. Some very fine acting wa done by Mavis Jousse, Gladys Sproule, Kay Prideaux, Beryl Schuman, Jack Winchester and Hal Robinson. Among others who contributed time and energy to the work backstage I remember Mr. & Mrs. Elmer Ball. Mrs. Ball's beautiful backdrop of trees was to reappear time after time in future productions.
"The Ghost Train" was the Society's choice for their Fall production. This was a thriller with sound effects and action calculated to chill the spine of the most intrepid theatre-goer.
In 1944 the A.A.D.S. initiated the policy of presenting three dramatic evenings each year, two in the Spring and one in the Fall. This policy was firmly adhered to, thus making 1944 the busiest and most ambitious year the Society was to know. Three one-act plays were presented in February: Tcheckoff's "The Marriage Proposal", George Kelly's "Finders Keepers" and A. A. Milne's "The Man in the Bowler Hat" offered wide scope for the acting talents of Florence Brennan, Norman Tessier, Harry Whicher, Jean Horton, Jean Honeywel, Stan Bloss, Harriet Beckett, Kitch March, Ed Brown, Hal Robinson, Joyce Whicher and Munro Fraser.
The Second Spring production was Phillip Barry's "Holiday". A newspaper report of this play declared it to be the best performance ever staged by the A.A.D.S.' more experienced members. The leading parts were played by those whose names have already been mentioned here. However, acting in minor parts or performing important backstage and business duties were the following: Vic Smeltzer, Bill Horton, Marjorie Winchester, Alice Ross, Ford Loucks, Doris Kerr and Bill Semple.
In November "Tony Draws a Hourse" was offered as the Society's third presentation. Peggy Jack, Ben Trevelyan, Wendell Griffin, Jean MacArthur and Harold Soper contributed their talents to this play, the success of which proved a controversial point in one of the local newspapers.
It must be added here that the Society did not exist solely for these three productions, for, during the year, there were instructive workshop activities in which all members participated.
In March 1945 the Arvida Amateur Dramatic Society and the Arvida Choral Society pooled resources and collaborated on an evening of entertainment consisting of a one-act play and a one-act operetta. Thornton Wilde's "Happy Journey from Camden to Trenton" was ably directed by Mary Madill and capably performed by five members of the Society, including newcomers Ronald Santoni and Helen Fraser.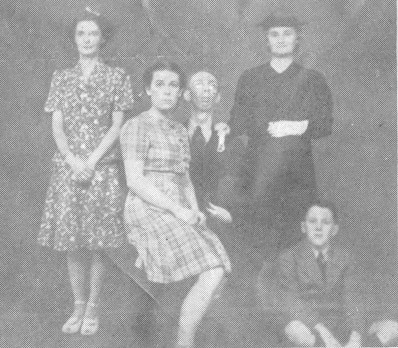 (Photo by Ella Borup)
In "The Happy Journey from Camden to Trenton" by Thornton Wilder produced by the Arvida Amateur Dramatic Society and the Arvida Choral Society in March 1945. Left to right: Helen Fraser, Kay Prideaux, Munro Fraser, Betty Smith, Ronald Santoni.
"Trial by Jury", Gilbert & Sullivan's one-act curtain raiser, was a delightful musical treat enthusiastically received by the audience. Such folk as Lily Duncan, Bert Rough, Ella Borup and Carl Hand helped out backstage.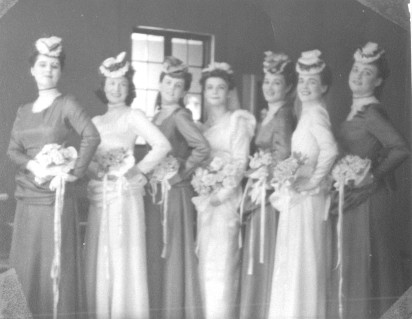 (uncredited photo)
Beautiful Bridesmaids From The Arvida Choral Society's "Trial By Jury" (Try to find the following: Janet Tanner, Peggy Jack, Bernice Rogers, Jean McArthur, Jean Saunders, Vivian Crouse) Edna Johnson is the bride.
"Captain Apple Jack", a lusty period piece, was to have been the second Spring production of the A.A.D.S. Unfortunately technical difficulties were such that it was postponed until the Fall when it became evident that the Society was on the wane. Active members had moved away or acquired other interests. Playreading groups carried on valiantly but, by the Spring of 1946, a meeting was called to formally bring to a close the activities of the Arvida Amateur Dramatic Society.
To the many members whose names, by virtue of lack of space and my memory, I have not included in this history, I offer my apologies. They as well as those I have mentioned, did their best to accomplish that which was set out in the constitution of the Society as its purpose, namely, to encourage an interest in Dramatic Art in the community by the production of amateur dramatics.
It is to be hoped that the seeds sown by the A.A.D.S. have born fruit and that somewhere, if not in Arvida, the members either are actively engaged in dramatics or at least interested in the welfare of similar groups in their communities.
Mrs. C. A. Locke
Also known as Betty Smith
Copyright © 1952 by Janet (Betty) Locke.